EDIT: Since I loved the excitement showed for the Pay it Forward idea, I decided to not just make a present for the first 3 comments, but all of the ones that commented in this post during the weekend 🙂 That way the blog-love spreads a little bit more!
Yesterday I read this post from Kimberly Michelle about her pay it forward (she read it from lilygrass).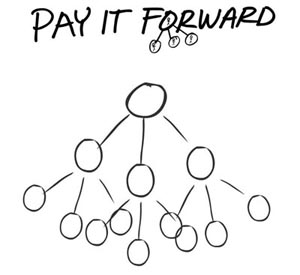 [EDIT: I had to ad this image by Mismikado's post ]
I thought it was an awesome idea, so I decided I was going to have it here in this blog too, the Pay it Forward is inspired by this story of a 7 year old. So here is how this works:
I will make a handmade gift for the first 3 people to comment.
I have 365 days in which to send you the gift.
The gift will be a total surprise.
You keep this going by posting Pay It Forward on your blog
(obviously, you must have an active blog to participate).
To be able to qualify just let me know when are you planning in post the pay it forward in your blog!
And now to the tutorial love Friday of this week:
1- Gift Bags from Newspaper by How About Orange
2- Ruffled Apron by One more Moore
3- Rice warm pillow by Wise Craft
4- Papel Capiz Shell chandelier by Design Sponge
Hope everyone have a wonderful weekend – See you Monday!
..