Remember when I shared that I wanted to celebrate spring? Well the celebration has begun =] First I am going to share flowers made out of felt. And these particular ones are very easy! I know I am kind of biased with the color combination but all the felt flowers I will be sharing are going to end up in projects for my office so you will see those colors a lot. One of my favorite flowers are Camelias (Spanish name) and even tho just with 2 layers they don't look much like Camelias if you use 3 or more, it will begin to resemble them =]
MATERIALS
Download the pattern (You will find 5 different sizes for you to play with! )
Your color choice of felt (I used 3 9″x12″sheets for 3 layers in different sizes)
Thread and needle
Hot glue gun (in case you don't want to sew it)
A pearl or embellishment for the center of your flower

…
**The download on the left is a PDF format file, so you will need to have Abobe Reader installed on your PC or MAC. Without the program you will not be able to download or preview the file. If you have trouble please visit this link, because each browser works differently. If you are having trouble downloading the PDF file try the .ZIP file on the right, you will need Winzip or a program that can read .ZIP files to open it.
THE PROCESS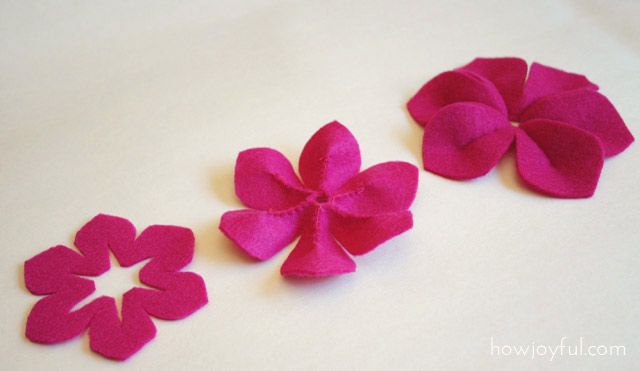 This is how I used the pattern. First I cut the paper pattern of the sizes I wanted to use (1, 2 and 3) then I placed them on top of the felt, pinned the pattern and I cut the felt shapes. To assemble the flower you simply have to sew or glue (I prefer sewing them) the center of the petals, after that your flower is ready!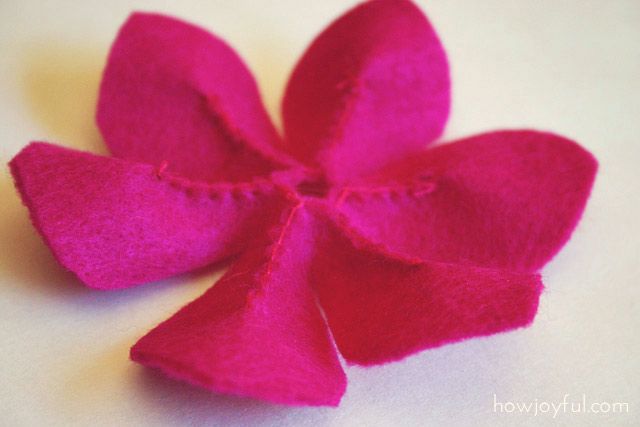 Here you can see a close up of how I sewed the back of my flowers, I left the center open because when you add a lot of layers it's easier to put the pearl or any other embellishment in the center.
You can add as many layers as you want, or just play with the different sizes, below you can see some of the options I did with mine. Once I was happy with how they looked I hot glued around the edge of the center in the lowest layer and moved my way up finishing by hot gluing the pearl.
Or you can just use them as one layer, I think they look pretty either way =] See how easy it was?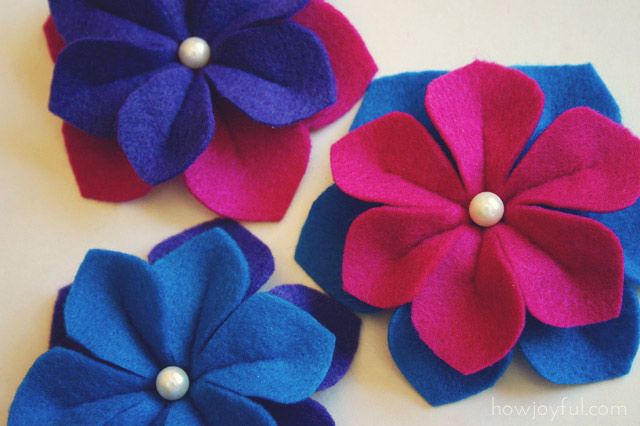 Hope you enjoyed and stay tuned for some more flower tutorials!
* This tutorial is provided for personal, use only. If you wish to sell items made with this tutorial please purchase a limited production license.
Check the Site policy at the bottom for further information, Thank you!
..