A few months a go I showed you a preview of the camera carrier insert I sewed. I didn't hold on the tutorial by accident, I actually wanted to give my honest review (and changes I would make to improve) along with a tutorial. I've been using the carrier for months now and it works great with the exception of some details I will describe so you can improve your own version (if you decide to make one for yourself)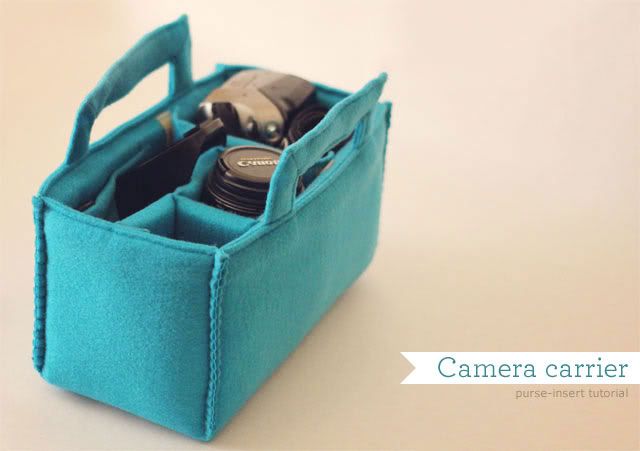 I have to say that I completely love my camera carrier, and changing purses is super easy! My carrier fits in all my purses, in some more tight than others, so when I need to carry more than just my camera I simply choose a bigger handbag, works beautifully!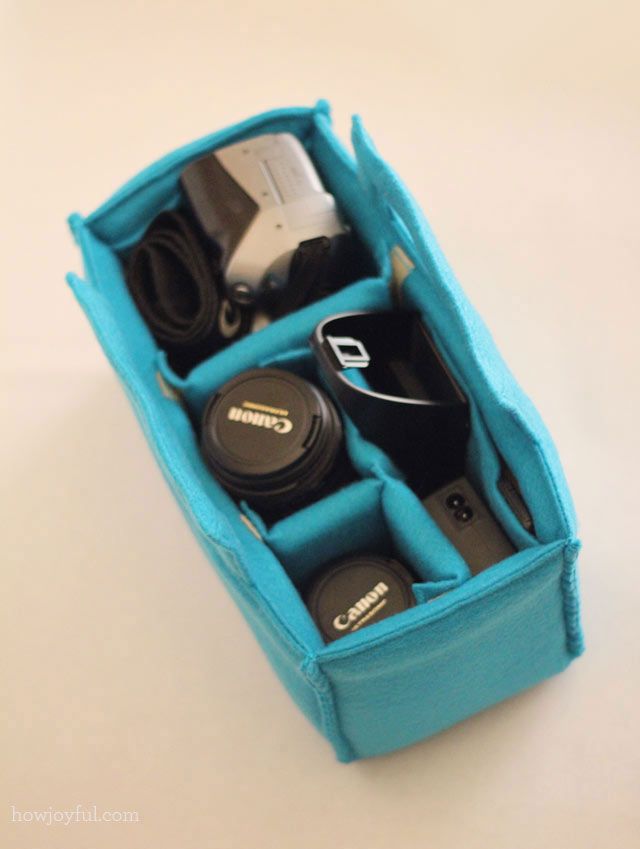 [This blog post contains affiliate links, for more information, see my full disclosure.]
The problems I've had so far with my carrier are the following:
The outside felt is getting a little worn, from getting contact with a lot of different liners from my bags (If I were to make it again, I would use a cotton or outdoor canvas on top of the outside felt piece)
The handles, even tho they are very pretty, they are not very resistant, so if were to make it again I would reinforce the traps and stay with an old fashion strap instead of trying the "prettier" version I did for mine. but if you like them I will explain how to reinforce them too =]
So now to the materials and instructions, because you should make one for you too!
MATERIALS:
For the main body you will need:
2 pieces of 24″ by 18″ piece of your choice of color felt or fleece
Add 1 piece of 24″ by 18″ canvas/outside fabric if you decide to reinforce yours (recommended)
About 20″ long piece of Velcro, cut in pieces of 4″ long.
Needle, Embroidery floss and and scissors
PROCESS:
[ Click on Images to enlarge]
A- First you need to cut your 1/2″ foam pieces for the container (I will describe the dividers later on)

2 pieces of 10 1/2″ by 4 1/2″ (front and back)
2 pieces of 4 1/2″ by 4 1/2″ (sides)
1 piece of 10 1/2″ by 4 1/2″ (bottom)

B- After that you will need to cut 2 layers of felt (the outside and the inside of your carrier) plus the outside fabric if you decide to reinforce the outside. To do so I placed all my foam pieces 1/2 an inch apart and traced, then added 1 inch on the outside like shown in the picture.
INSERT:
The pieces for your insert are:
3 pieces of 3×6″ foam (center divider)
1 piece of 6×6″ foam (full divider)
1 pieces of 7 1/2″ by 10 1/2″ felt (center divider A) fold it to make a 7 1/2″ by 5 1/4″ piece
1 pieces of 4″ by 10 1/2″ felt (center divider B) fold it to make a 4″ by 5 1/4″ piece
1 piece of 7″ by 10 1/2″ felt (full divider) fold it to make a 7″ by 5 1/4″ piece
For the insert you are going to start by making 3 tubes, simply fold your pieces as instructed in the material list and sew along the bottom parts of the 5 1/4″ tall, like in this illustration: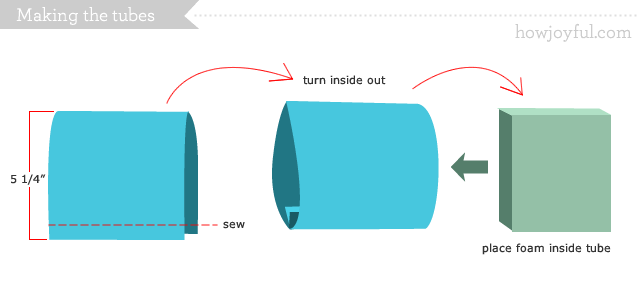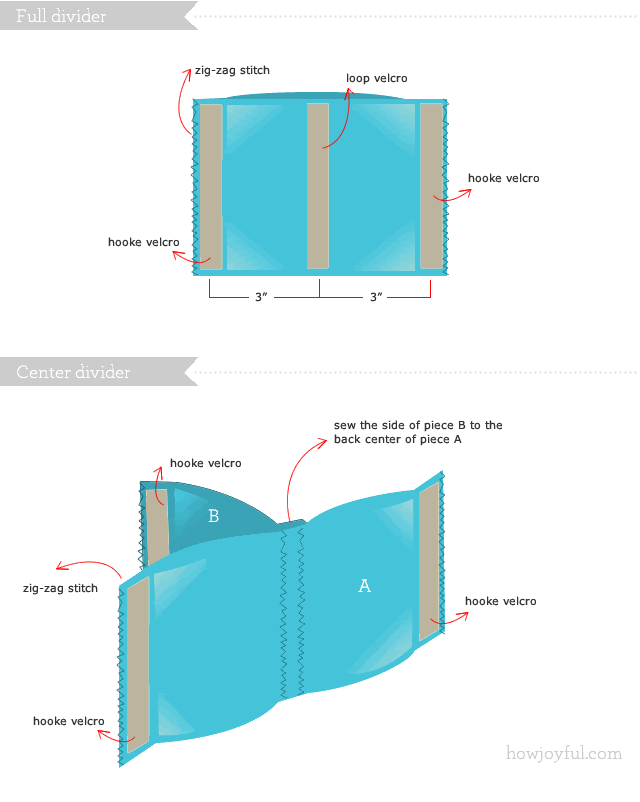 I would recommend you to check on your inside pieces before closing and adding the velcro just in case, if your felt or fleece is thicker or thinner than mine there can be a little adjustments that you should make (but they should be minimal)
And there you go! your camera can be protected and carried more comfortably everywhere!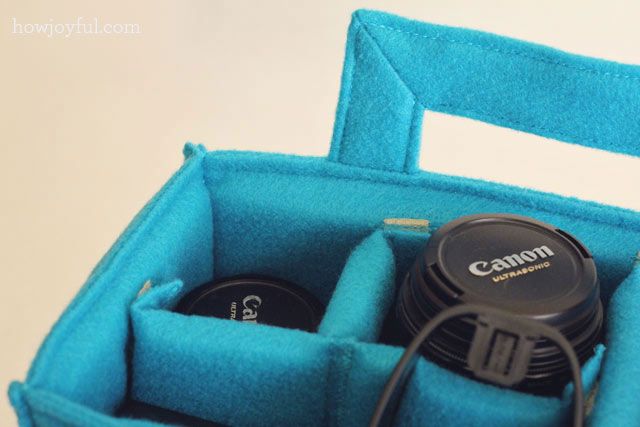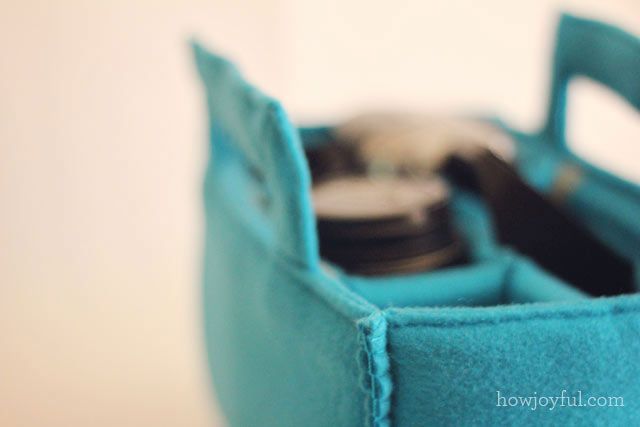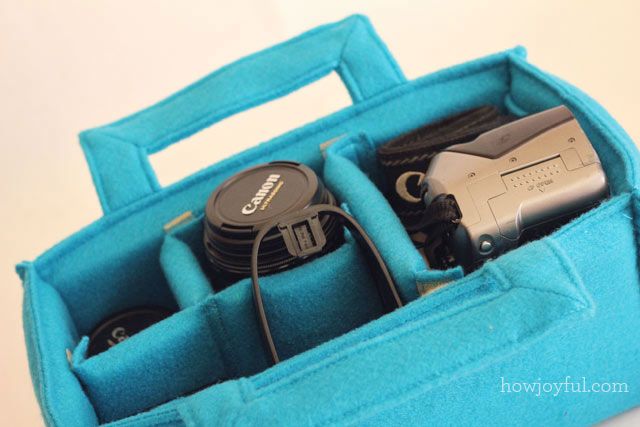 I hope you guys enjoyed this tutorial, I know a lot of people were anxiously waiting for it! Sorry it took me so long, but that's what I get for having such bad morning sickness hehe =] Now I have to work on finishing the Mr. and Mrs Joyful ducks, hopefully that one will be ready in the next couple of weeks.
I hope you all had a great weekend!
* This tutorial is provided for personal use only. If you wish to sell items made with this tutorial please purchase a limited production license.
Check the Site policy at the bottom for further information, Thank you!
..