Hola friends! As you can guess by the name of my blog I'm Joy, a Chilean girl that after falling in love, abandoned the city life of Santiago, Chile to start a new one in the gorgeous southern California mountains, in a small little town called Crestline, where summers are warm by the lake and winters are covered in snow.
Today, five years after my "international" move, I feel so blessed to have an amazing husband by my side, a cuddly furry companion (Curly made the move with me and just turned 15 years old) and an adorable baby boy that we welcomed 10.11.12 (hard to forget that birthday huh?) it took me a while to get used to the "mountain life" but now I would not have it any other way!
I am an Industrial Designer from the Universidad de Chile by degree but I am in love with design in every shape and form. I've always loved expressing myself creatively, so sewing, crafting and designing came as a natural way to create. When I was a little girl my dream was to be a Fashion Designer and even now I am always dreaming about starting my own clothing/fashion line =]
In April 2010 I married my best friend, it was a beautiful fully-handmade celebration, you can read a little bit about it in our Wedding page along with some of our favorite shots from one of the most amazing days so far.
Here a few random facts about me:
My native language is Spanish
I am self taught English speaker and started blogging as a way to improve
I am a to-do list making freak
I absolutely love lemon pie
I am 5′ 11″ tall – a lot bigger than the Chilean average
I am super scared of spiders
My favorite fruits are tunas (the green prickly pears not purple)
I'm writing a journal blog for our little baby
… and of course some Frequently asked questions
ABOUT MY BLOG
My goal for this blog is very simple: INSPIRE – to me inspiration is the base of any creative process, I love pretty things and I am always inspired by others, in order to CREATE we all need inspiration, so I started this blog as my personal contribution to try to inspire others like me to explore their creative self and hopefully try/make something new =] I love to teach and SHARE the things I make, know and learn, that's why I love to make tutorials and share my inspiration and life in this little Joyful space.
I first Designed this blog in February 2010, sadly it stayed empty until after our April 2010 Wedding, so I like to consider April as my Blogoversary. I love to change the design and make little improvements all the time, so here a few posts I've done about the design aspects of this blog: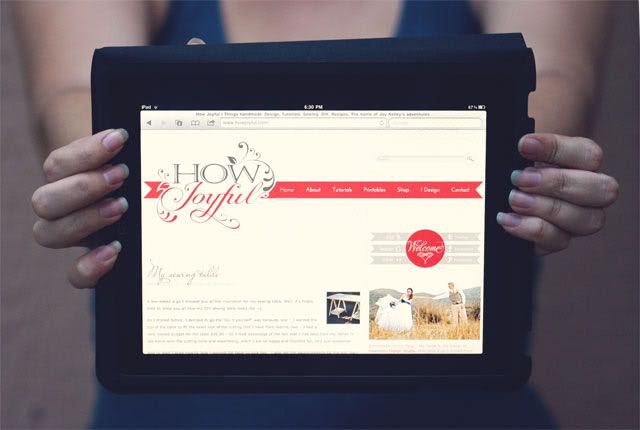 ABOUT WHAT I DO
While I was living in Chile I worked as an Industrial Designer at big company where I was told exactly what to draw or make without being able to really explore creative options, so when I moved to the States I decided it was time to do what I loved and in late 2010 I started my Design Business "HowJoyful Design Studio" and launched my site hjdstudio.com, where I design websites, branding, blogs and more for small businesses and passionate bloggers.
The year is 2013 and I have decided to not only draw for my websites and blog designs, but also for fun – for the great love I have towards pen and paper, and most importantly to express my ideas, hopes and dreams. To share them with crafters, sewers, dreamers and passionates just like me. I want my artwork to inspire and encourage people. I want to share my doodles while exploring this super-fulfilling creative outlet, and that's how my Etsy shop was born (or actually re-vive!!, because I opened when I started my business but never really listed anything)
So I mixed hand-lettering, illustrations and some of my favorite fonts to create inspiring artwork for you to frame, gift or wear. With attention to detail and much much love, from my home studio directly to you.
So now I am a work-at-home-mom, that designs websites, blogs and logos and runs an etsy shop with handmade, hand-lettered goodies in between naps and diaper changes, but you know, I would not have it any other way! =]
CONNECT WITH ME
I invite you to connect with me on:
Subscribe to my blog:
& Check out my shops:
If you have questions or if you'd like to know more about this blog, I invite you to check my
frequently asked questions
or
contact me
if your question is not covered there =] I love when I get emails from readers! – Just sayin' 😉
Thank you for letting me share my life with you! I hope you enjoy your stay, dig in and come back soon.