This week I haven't blog much, mostly because I've being super sick, and the few hours I do get up I try to work as much as I can on designs so I'm not so far behind.
Today I can finally share some awesome news, Ken and I will be going to Chile for almost 2 months!! I am so excited, it had being more than a year since last time I saw my sister, sad huh?
We will leave in less than a month and will get to spend the holidays there, the best part is that it will be Summer! So I will get to wear and make some more summer dresses 🙂
As for the blogging I will take Ken's laptop and I will try to update as much as I can, and I will stop the design orders in my site next week, so can make sure I will be able to finish everything I have right now and what I could get next week before we leave or finish it down in Chile before the holidays.
I am just so excited!
And well for this weeks tutorial love Friday, check out this great projects: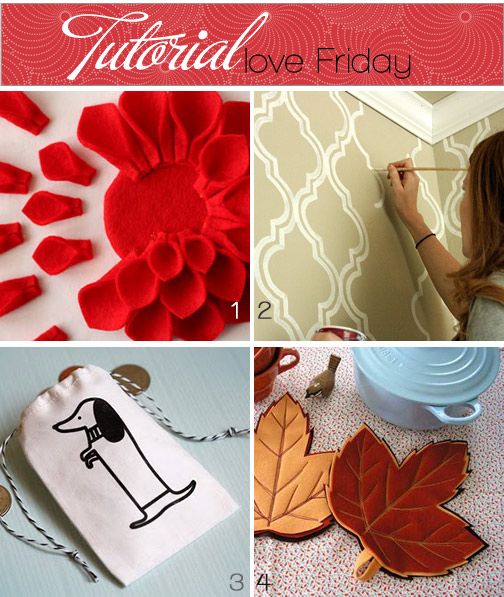 1 – Felt mother's day corsage by Megan Reardon at Holidash
2 – Painted Wallpaper by Emily at Jones Design Company
3 – How to transfer an image to fabric with gel medium by Jessica at How about Orange
4 – Felt pot holders by Brett at Design*Sponge
And I also wanted to share this awesome video a saw a few weeks a go in Design*Sponge.
Sometimes I wish I had some specific talents and well, after I saw Luca Barcellona handwriting this board for the "Legacy of Letters" Italian tour, organized by Paul Shaw NYC, I so wish I could do stuff like that. I think he is just an awesome artist.
Happy weekend!
..