Long time a go I found out about the Dayzero Project, I was all excited and wanted to create my own list right away, sadly I got side track and kinda forgot about it. Then months later I read the oh, hello friend's list and again I got all excited! started writing down my list but then again, slowly forgot. Finally a couple of weeks a go I saw my friend Kelly's at Blushink! and decided the 3rd time was the charm and finally finish my list.
I know I should have wrote "finish the list" as my number one thing to do LOL – but ohh well! I finally finish it and even designed a page for it so here it is! My Own 101 in 1001
Since it's the beginning of a new year I thought January was the perfect time to get started (besides we are still on vacations!) I have about 2.75 years to finish and 101 awesome things to do! I know I might not blog about every single one of them but I will be sharing with all of you my process because I love to cross things off!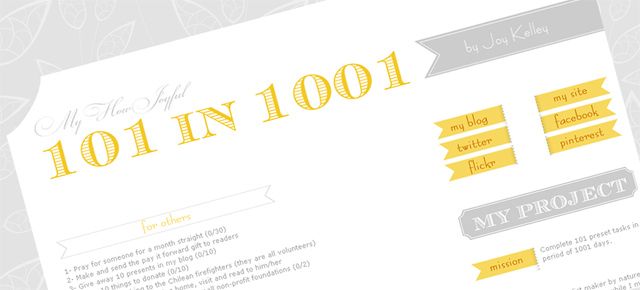 I separate my list by categories and I have a section with things I will do width this blog, I am very excited and already have a list done with the future tutorials and craft plans. But all that will have to wait a few more weeks, we are 3/4 in our vacations and this weekend we are heading to Arica, the northeast city in Chile, we will go from Santiago and pass trough the driest desert in the world (I don't know if I'm very excited about that part) to get there. We will spend some time with the family and meet up with my dear cousin Hector that moved to Switzerland a few months before I moved to California, so I'm super excited to get together!! I know I will make a post or two about this awesome vacations once we are back because it has being awesome =]
I'm looking forward to blogging again and sharing with all of you, ohh and I've notice all the new followers, THANK YOU and WELCOME! I hope you all enjoy the little I've share and in the meantime I hope you search thought my archives, there are some cool stuff 😉 and I hope you stick around because I will be giving away an awesome prize February 10th!
Much love!
..