This blog contains affiliate links. It means that even though the price is the same to you, if you purchase using my links I will get a small commission to help develop more free content, yay!! Thank you so much for the support! Read more on my
disclosure page.

Purple is my favorite color, that's why it was one of the main colors of our wedding (along with green, Ken's favorite color). But after the wedding and for longer than a year I could not even look at purple, I was so sick of it! Happily I am finally detoxing from purple =] So my first step to officially show my re-born love for that color, is to finally wear it again. I decided to make a dress for Ken's cousin wedding last weekend and as usual I had to share it with all of you.
I had that purple fabric way before our wedding – I actually brought it from Chile – and yes, if you are wondering, did she really move to the California with a bunch of fabric? Yes I did =]
I used some leftover fabric from the bridesmaids dresses I made for our wedding. I made it strapless but after trying it on I decided to make little hooks for my bra on the front and back, so now I can wear it with one trap like in the pictures, with 2 straps or strapless =]
I used to love strapless dresses and never really had a problems, but since I moved to California I've gain some weight and a big part of it has gone to my front area. So now, I just need the extra support. Since I wanted to wear a bra with it, I sewed pieces of ribbon so the straps can pass through them and re attach to the bra.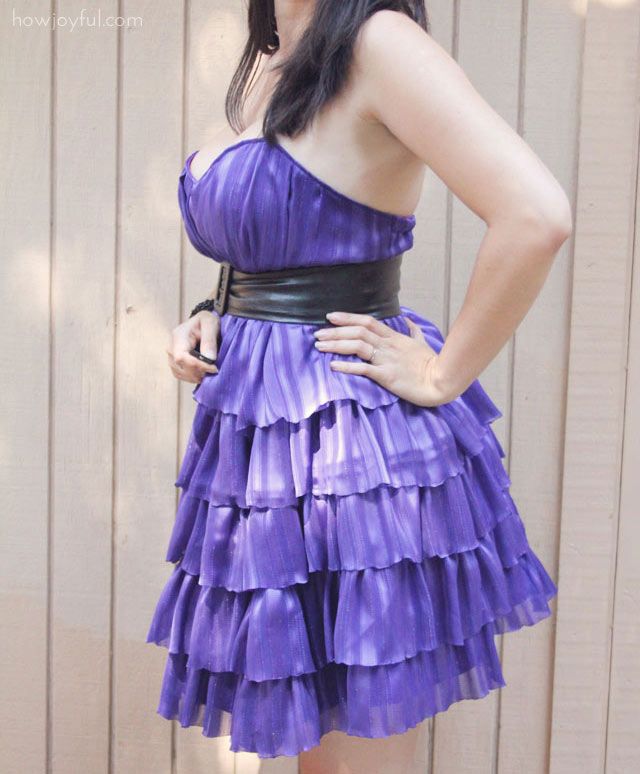 At first I wanted to make something really busy and with tons of flowers on the skirt, but then I realized I only had less than a day to make the dress. So I changed my mind to something more realistic, based on the time frame I had, so I sketched an easier but still pretty dress.
I should have taken some pictures without the belt, but I integrated a same fabric sash and I fully lined the interior. I burned all the edges on the ruffles to prevent fraying and save me the time to actually fold and sew all the edges, I know I am a cheater =]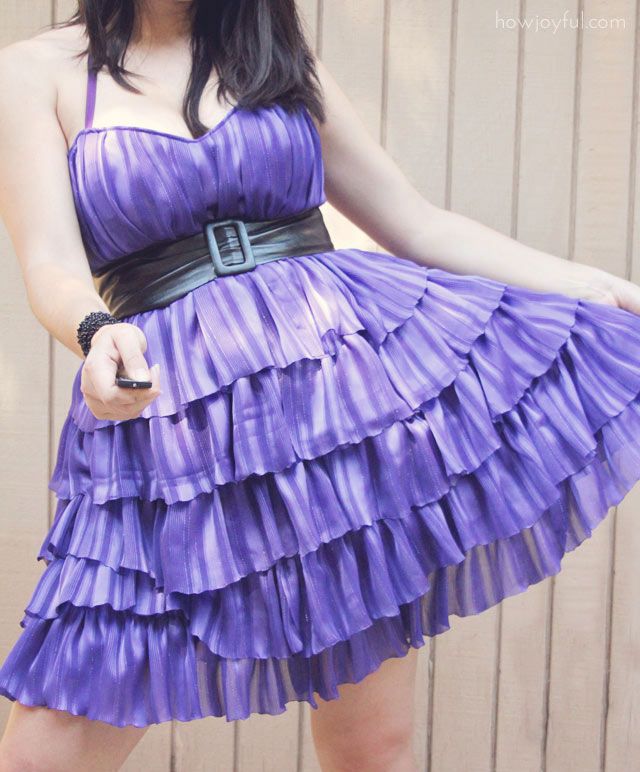 I love the little tripes on the fabric, some lines are solid, others see through and some very thin sparkly silver threats. So pretty! I should have got more fabric when I could hehe. (I will add that to my "to GET" list, for my next vacations in Chile)
I love the way all the ruffles move when I turn! My dress was so ready to dance! but with my dancing partner gone to a fire assignment, I had to convince my dress to wait for next time to get it's groove on =] I did get some picture of it moving, let me tell you it really likes it 😛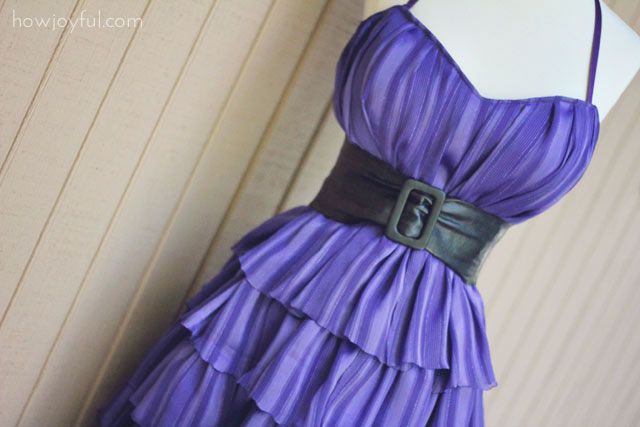 I wanted to get pictures of the dress at the actual wedding, but my brother in law cut my dress in every picture he took (what a goofball!) So here are the only ones I had with my dear Mother in Law, (yes, we like to be silly)
So there you go, I finally made it official and fell into Purple again =] so pretty! and ruffles make it so much better! I actually wanted to add rome ruffles to the top, but then I changed my mind because it was looking too busy and not very proportioned.
And I could not forget a picture with curly =]
I am still considering making pattern for clothes, but it's so hard for me to figure sizes, because most of the clothes I make are either for me or measured with the person I am making it for. So pretty custom work =]
I will work on patterns tho (for crafts, accessories and probably handbags) while I am on vacations and hopefully I will launch my pattern shop right after that. I hope you all have a wonderful weekend and check on Tuesday because I have a very cute printable and cool post for all of you my lovely readers =]
https://www.howjoyfulblog.com/wp-content/uploads/2011/09/DIY-purple-dress-100.jpg
100
100
Joy
https://www.howjoyfulblog.com/wp-content/uploads/howjoyful-logo-1.png
Joy
2011-09-02 18:23:13
2011-12-10 21:55:38
My Purple dress