I can't believe how fast this year flew by, lots of things happen and I wanted to share some of the highlights =]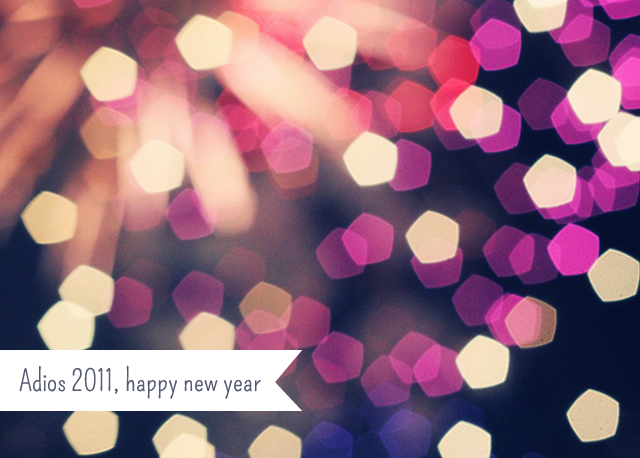 ♥ First I have to say that I am super happy to see how much this little blog grew in just one year, back in January there were not even 200 RSS subscribers and now it's pretty close to 2,600! How did that happen? Well, however happen it makes me super happy =] so Thank you [huge wave]
♥ I am also very excited to finally finish the update for my business HowJoyful Design Studio or HJD Studio, it took me a while but finally it's ready for the new year and I am excited to finish all the current projects so I can start accepting new ones in March.
♥ Last January I jumped and started my very own 101 in 1001 list. I has been very rewarding to cross things off (yeah I am a list maker!) so I hope I can cross off a lot more things in 2012! If you still don't have a 101 in 1001 list, this is the perfect time to start =P
♥ In 2011 we decided to adopt a little dog, but we only got to enjoy him for a few days =[ We are hoping this new year will be the year to try to get another one.
♥ I was super happy to go visit my family back in September, it was very refreshing to get to spend time with my Mom and sister. Once a year sometimes feels like it's not enough.
♥ I opened a premade template shop, shared free templates and open the shop section of my blog, so now I just have to finish the details of my two first sewing patterns and add them there =]
♥ I was also very excited to open the doors to sponsors in July, thanks to the on growing traffic I felt I could help other blogs and small business to get more views in their sites.
♥ And of course there was a lot of sewing, crafting, upcyling and Inspiration shared this past year, so I can only hope to have more time to dedicate to the things I enjoy doing SO MUCH =]
I had this post almost ready since last month, so I decided to change the end portion of it. Two days a go my grandfather passed away in Chile, so that would definitely be the sad part of 2011 =[
For the past couple of day I've been thinking a lot about life and the things I want to do, but most importantly about what my contribution to other people's life is and I hope will be. This next year I hope to keep growing into a better person, to worry less and love even more. I hope to never take my friends and family for granted and remind them all the time how much they mean to me.
Let's celebrate life and cherish every moment, always say "I love you" and hold the hands of those who need it, life is too short to worry about silly things. Let's be playful and smile, laugh and jump. I wish sunny and pretty days for all of us and for those gray and cloudy days warm and tight hugs. Deal?
Thank you for reading and letting me share my life.
Much love, XOXO
..