There has been a lot of buzz about copyright Infringements on the web lately. Mostly is small artist that are getting copied by big companies. And in all of those cases, I think it's very clear to distinguish right from wrong. Inspiration and copy are two very different things, for most people the line is not very visible and that's when trouble can knock on the door.
The whole inspiration v/s copy issue is a huge one, but it's not what I want to share with all of you today (that issue itself requires a separate post). Because of this ongoing rips off that's I've seen online, I've had long conversations with Ken about "what would I do" if something like this happens to me, so I started researching Copyright Law and in my attempt to "protect" myself I found out that some of my work (the lettering I've done of someone else's quotes) could have been infringing Intellectual property/copyright/Right of Publicity laws.
I felt super ashamed and VERY sad that I was so uninformed. As all of you know Etsy is full of artwork created from quotes, songs, and movies, so I never questioned the issue, because I saw how many people do it I assumed it wasn't wrong, but now that I've read and researched, I've realized that it's a lot more complicated than what I initially thought. I started wondering about the issue when I started sketching for my HowJoyful calendar. Halfway through the calendar, I realized that some of the quotes I was planning to use had been copyrighted, so I could not use them.
The legal part of all this can be very confusing because each quote and author *might* have a different Copyright, Trademark or Right of Publicity. So each one should be researched and "cleared" in order to be safe to use. And trust me I've tried to do this research myself and it has been crazy, so a Copyright Attorney is the right person anyone that want to do this should consult with.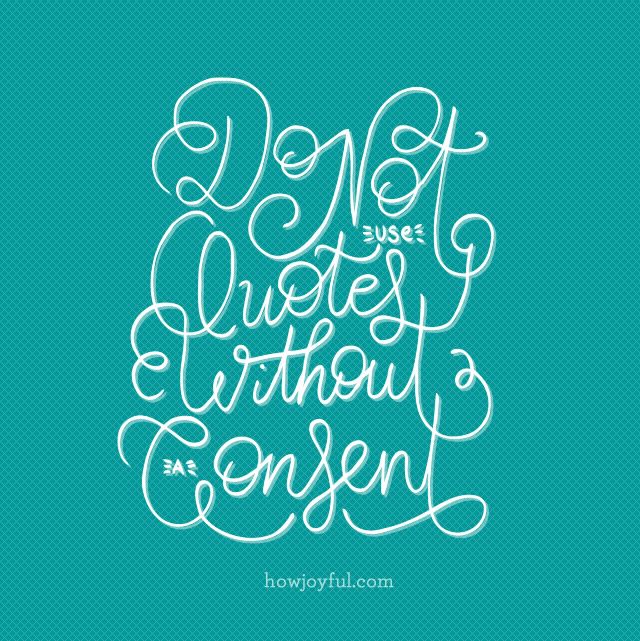 During my research I came along this great article written by Bruce E. Burdick on the Use of Famous quotes and also AVVO's list of questions about the use of quotes as the base of your work, this was super helpful because the ones responding are real lawyers specialized on the subject, what I learned from reading many -many- questions and all their answers is that: Read more »
..